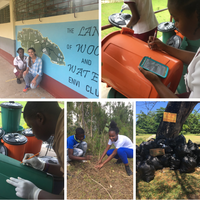 Recipient: Kellits High School
Amount Awarded by FOJ: $601 USD
The sections below are taken from the awardee's final report, which you may download here.
Tell Your Story
Describe the overall project impact, using any evidence/stories from a community member or your personal experience that attest to the project's impact.
The Environmental Club at Kellits High School saw a major impact from this project. Throughout the entire project, we had participation and interest from students and other staff members who in assisting us. We were able to plant over 30 trees throughout the community and campus. While painting the mural, we had assistance from many of the ENVI Club students, but also more students would come to look, help, and ask questions. Many of the students had never heard of places that were put on our map which is located now on the second story at the front of the school for everyone to see daily. Students from the ENVI Club would help to answer questions demonstrating their improved knowledge of Jamaica' environmental resources and why they need to be protected. We were also able to clean up over 120 gallons of trash around the island. The students and staff worked hard and were able to see a tangible impact that they had on their community, school, parish, and nation.
Goals and objectives
Were the project goals and objectives achieved? What can people do better now than before?
The goals and objectives were achieved. The students now know how to recycle and compost. They are also able to assess their environment to find ways to improve protection and maintenance of it. The staff and school are now able to attend a healthier campus both from a green and hygiene perspective. The club was awarded Club of the Term for everything that it was able to implement and how involved the student body & staff were in transitioning into a more sustainable school. Through this, the students have learned also how to take action and develop programs & projects in their communities not just for the environment, but for anything that is important to them.
Lessons Learned and Promising Practices
Lessons Learned:
Always plan for unseen evets: Throughout the term, the school would have issues with water and the students would be sent home early, cancelling club. We were able to start mitigating this by planning some events on weekends or during lunch when the students would still be there. Had we planned for more time in our expected calendar however, we would not have needed to shift staff and student schedules and plans.
Be prepared & mitigate inconsistent participation from students: Some weeks the club would have 15+ members helping with posters, painting, tree plantings, and then some weeks there would be 2-5 students. Since we were working with high achieving students who were involved with more that one extra curricular, we should have given them important dates far in advance so that the turn out was more consistent.
Promising Practices:
Having a back up plan, always- Before each week, we would sit down as a team to plan what we would be doing if it rained, if it was sunny, or if something didn't go to plan. There was never a day that we had club where the students weren't doing something. We always were prepared for them which helped us complete the project within our timeline.
Encouraging other student involvement: This project was designed for the implementation to be done directly by the club. However, as the project began and students and staff started to see what we were doing on campus, we always allowed them to join us. The more hands, the better!
People impacted
Complete the table below with numbers of participants, beneficiaries and organizations that were impacted by the project.
| | |
| --- | --- |
| # of individuals directly benefitting from the project, including those who attended trainings or workshops | 1000+ |
| # of community organizations and/or associations that have increased capacity due to this project | 2 |
| # of individuals who will have increased capacity due to this project | 40 |
Attach supporting material for your project here, e.g. photos. (Please try to get photos with the people involved in the project).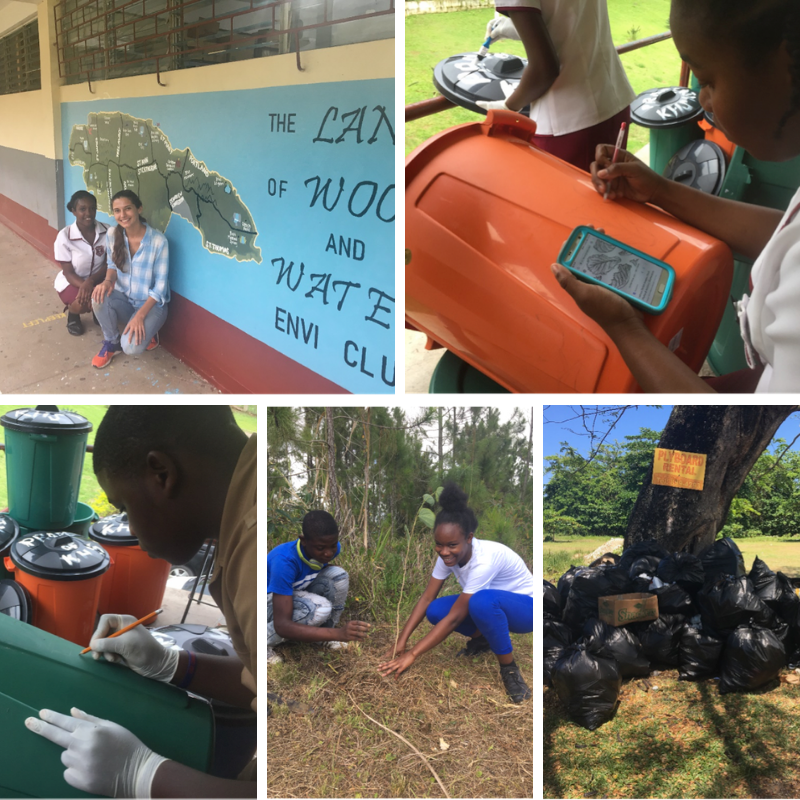 ---