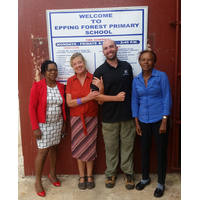 FOJ recently supported Epping Forrest Primary School in purchasing a projector to improve educational opportunities for teachers and students. While students previously had to crowd around a small computer monitor to view instructional videos, they can now all easily see these videos projected on the classroom whiteboards. Teachers can more easily explain what is seen in the videos, using pointers to emphasize information illustrated in charts, statistics, pictures, etc. The projector is being increasingly used in all classrooms, with over 60 students benefiting from this new technology.
The school principal is also using the projector for staff training to inform teachers about changes in the core curriculum being designed by the Ministry of Education to bring Jamaican education in line with the twenty-first century, especially in regard to the use of technology in the classroom.
The project was led by current PCVs Susan MacBryde and Evan Gangi, alongside their Jamaican counterparts. "It's great to see the teachers so excited about using the projector in their classrooms. It will make all the difference in their teaching practice. We also have student teachers now who are seeing the benefits as well," said Susan.
FOJ is proud to support initiatives that utilize technology to improve education. We hope the projector will continue to be used for a wide variety of educational activities.
---