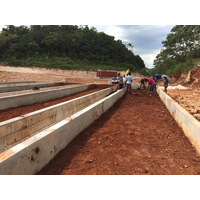 FOJ recently gave EarthStrong support for a project in St. Ann parish to establish a community-based rural enterprise by constructing a commercial aquaponics system equipped with solar power and rain harvesting equipment.

Although heavy rains and other challenges have delayed the project, the land has now been prepared and foundations set. Construction will continue to install the agriculture equipment in conjunction with climate change workshops for stakeholders.
Stay tuned to FOJ for updates on this ongoing project. Earthstrong is dedicated to diversifying and promoting agriculture to propel the economy while effectively making an impact in community outreach. Learn more about the organization on their website.
---