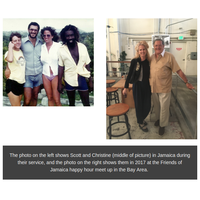 At the Bay Area Friends of Jamaica happy hour to welcome back recently returned Jamaica PCVs, two RPCVs from the 1970s reunited for the first time since their Peace Corps service in Jamaica. Scott Gannon and Christine Kristin served in Group 32 from 1979-81. They were kind enough to share their experiences as Peace Corps volunteers in Jamaica and the impact that Peace Corps has had on their life in the years since.
Why did you join the Peace Corps?
Christine: Originally I was a volunteer in Lesotho in 1976-77. I had joined PC after grad school for a number of reasons: I was very interested in African culture, after studying Ghanaian dance for several years, and I didn't want to be a tourist; I wanted to live in a community, really learn the culture, and do some good in the world. After returning home to Chicago, I was quite disillusioned with America and I just wanted to go abroad again. I did grad work at the art Institute of Chicago, and I had a friend there who had just completed her PC term in Jamaica where she worked with artists. So I signed up for PC again and requested her role specifically and left for Jamaica in 1979.
Scott: In 1979, I had just finished the coursework of a two year post-graduate program in social psychology at the Community Psychology Institute at the University of Cincinnati. I had a choice to either spend another two years doing research and writing a doctoral dissertation in Cincinnati—or going to Jamaica in the Peace Corps. I was tired of working and going to school; and the stifling, oppressive conservative city of Cincinnati was telling me it was time to 'get out of Dodge'.
What did you know or think of Jamaica prior to arrival on island?
Christine: I was familiar with reggae music – Bob Marley in particular, and also knew a bit about Rastafarians. I was living in Berkeley when I signed up for PC Jamaica; there were Jamaicans around who played music and served Jamaican food. I also knew that there was a lot of political violence and poverty, as well as great natural beauty, and lots of tourism.
Scott: Like most people, my impressions of Jamaica were of a tropical paradise, poor people and reggae music. I was so excited to find a Peace Corps job that perfectly fit my education, training and interest, that I guess I didn't bother to check out the danger and volatile impending political situation. And I don't remember Peace Corps warning us of any serious potential danger and unrest. I (wrongly) assumed it couldn't have been worse than living in Cincinnati!
What were you thoughts upon arrival and after?
Christine: I became deeply attached to Jamaica after living in Runaway Bay for two years, travelling all over the island, and working with woodcarvers and fisherman, and also at a childrens' home in Brownstown. I was amazed at the depth of the culture – there are Jamaicans all over the planet who are accomplished in the arts, literature, athletics, etc. For such a small island, the cultural output is off the charts. Jamaicans are resilient, generous, and extremely hospitable; I watched them recover from Hurricane Allen in 1980 with amazing courage and, somehow, good spirits.
On the negative side, I was dismayed at the homophobia and sexism rampant in male culture there, and the tendency to violence, especially when associated with politics. I went through the crazy election of 1979/80 when socialist Michael Manley was defeated by Reagan-affiliated and conservative Edward Seaga. I was held up at gunpoint in my house in Runaway Bay, and robbed. Leading up to the election, the whole island was plagued with violence both politically motivated and also opportunistic. My Peace Corps group arrived in late August 1979 and by the end of the year, I believe 40% of our group had left. But I stuck it out as I was so enamored of the people and the island. And it was worth it! Things settled down post-election and I had a very rewarding experience. I was quite bonded with the little community I worked with, and after I returned home, I learned that one rooms in Hillcrest Children's Home in Brownstown was named after me! Funny, but sweet.
Scott: When we arrived, it was several months before elections. Two political parties were competing for power and control. The leader of the People's National Party, Michael Manley, was a socialist, and the opposition party, the Jamaica Labor Party, led byEdward Seaga, was trying to maintain control, and strongly opposed the socialist push.
Then the bullets began to fly. When it was all over, I remember sending the headlines home from the local newspaper, saying that 800 people had been killed in the months leading up to the election. Unfortunately I was one of the few volunteers living in the capitol, Kingston, where almost all of the violence was centered. Peace Corps never talked about evacuating the volunteers, because all but a few were outside of Kingston, and not subject to any of the warfare. I remember the U.S. A.I.D. staff were given 'hazard pay' during this time. And I remember thinking, something's wrong with this picture— I'm the one walking around on the streets of Kingston, unprotected! They have drivers, security guards at their office AND residences, and they are getting hazard pay?
My only fond memory was attending a rally just a few days before the election, when bloodshed was at its height, and seeing Bob Marley on stage, orchestrating the two political leaders and enemies, to shake hands.
The unrest and violence subsided quickly after the elections. But the island had been devastated by the political damage. People who lost family, friends and colleagues, harbored anger and revenge that would take a long time to heal. For months before and after elections, tourism to Jamaica, the main source of income, had disappeared. Supermarkets were empty. All of the hotels and tourist attractions were abandoned. Hundreds of thousands of people directly and indirectly involved in the tourist industry, were unemployed. The economy plummeted. Luckily the Jamaican people are resilient, like to enjoy life, and are experienced living in hardship.
My love of the people, culture and country persisted. I had lived through the worst, and then stayed in Jamaica after my Peace Corps service, for a total of eight years!
What was your experience like overall?
Christine: As mentioned, it was certainly up and down! Mostly I was very comfortable there. I learned basic patois and biked around my town at all hours. I was known to everyone in the town and felt accepted. One thing I loved about my experience was that it was so easy to meet people; I met well-known Jamaican artists through my work and through Jamaican friends. On a small island people are more accessible than in larger countries. I was treated with kindness by most folks there and I returned every winter for ten years after completing my service. To this day, when I visit, I see folks I know from my time there nearly 40 years ago.
Scott: I was assigned to the Guidance and Counseling Section of the Ministry of Education in Kingston. A team of three volunteers, and three Jamaican staff, were responsible for planning, designing and conducting training for all of the high school guidance counselors on the island. This was a wonderful experience. Most of these 'guidance counselors' had absolutely no training in psychology or counseling. They were regular teachers, who either volunteered or were appointed to be the school counselor. So, they were so grateful and appreciative to have someone to train them in this area, and provide them with materials they could use with their students.
The only downside of this experience, was when we were covering the topic of adolescent sexuality. The trainers decided we had to include the subject of homosexuality. If you know the Jamaican culture and social attitudes regarding this topic, you'll know it is taboo, and even talking about it is avoided at all costs. Many of the counselors were so emotionally affected by us covering the topic, they had to excuse themselves from the training. But we pushed forward, and the final outcome, was to arrive at an agreement with them, that if a counselor was confronted with a gay student, and they couldn't handle it, they would at least refer the student to another counselor. While this was not the ideal outcome, we thought it was better than a gay student confronting the counselor who would become emotionally paralyzed, faint, run out of the room screaming, or try to convince the student homosexuality didn't exist.
How has serving in the Peace Corps impacted the rest of your life?
Christine: It made me keenly aware of the destruction colonialism has wrought in Africa and the West Indies. I became even more politically progressive than I already was. I continue to be involved with volunteerism. I moved to San Francisco in 1992 and became a Shanti volunteer, volunteered at the SPCA, and at a woman's shelter, and I currently tutor students at my local elementary school. I have worked for a non-profit arts organization, the Burning Man Project, for nearly 20 years.
Scott: I've had an interesting, fulfilling and challenging life, living in developing countries all these years. As an educator and consultant, I found a sense of being able to make a difference in the lives of people who have not been as fortunate. How often can people say they were able to make an impact on the quality of someone's life? The satisfaction and gratification that comes with being able to 'make a difference' is what attracted me to the Peace Corps, and motivated me to want to continue that life-style for my 30 years overseas.
---