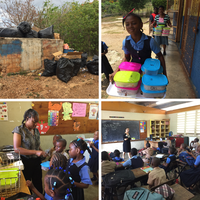 Friends of Jamaica Peace Corps Association approved an award to Geneva Primary School in St. Elizabeth to purchase reusable containers for their canteen to use for school lunches. These reusable containers were a component of an entire overhaul of the school lunch procedures. The project was structured as a springboard for conversations on environmentalism and environmental impacts with the students, as well as a way to significantly reduce trash accumulation in the area.

FOJ approved an award of $566.60 in August and 184 containers, 120 forks, and 120 spoons were purchased before the start of the school year. Here's how PCV Peri describes day one:

"We presented the new canteen practices and environmental impact to both the parents at PTA, and students in their classrooms and received positive feedback. In our first day of canteen operation, the containers were used. There was no trash waste or food waste created by the canteen. All left over food was collected for a neighbor's pigs. Some parent volunteers washed the containers very quickly and everything went smoothly. We were very very proud of how day one went."

Project partners listened intently to community feedback and coordinated with parents and teachers to improve implementation.

"The environmental impact of the school has been completely overhauled. With the introduction of the reusable containers, we have eliminated the schools dependency on Styrofoam," they wrote in their Grant Completion Report. "They are also more actively environmentally engaged; they go on the road to pick up plastic bottles, use the reusable containers without issue, and proudly show off other reusables, such as bottles and bags, that they have introduced to their life."

Click here to view the PCJ Facebook Post with more photos.
---