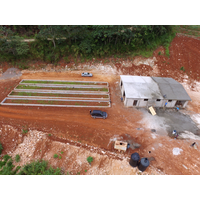 In 2017, FOJ awarded a grant to the community organization EarthStrong to support a project in St. Ann parish. The project will establish a community-based rural enterprise by constructing a commercial aquaponics system equipped with solar power and rain harvesting equipment.
Visible progress is now being made on this project, with the construction of an aquaponics greenhouse and aquaculture infrastructure. In addition, several community participants were educated on climate change and adaptation measures and linkages to gender and climate change.
Twenty-one community members have registered for the first set of certified trainings in partnership with HEART Trust/NTA. Participants who successfully complete the program will receive two job certificates; one as a seedling/nursery technician and the other as a pond technician.
The next planned activity is to install the off-grid 13.2 KW solar system and aquaculture equipment.
---