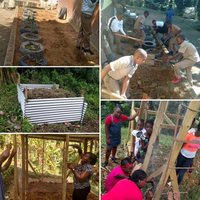 In December 2016, FOJ funded s small livelihoods project at Bybrook Primary School in Portland Parish. This local agricultural project, benefiting sixty teachers and students at the school and community, will see:
One Chicken coop built

One compost bin built and operational

3 terraced farming plots will be utilized for the next growing season (February/March 2017)
According to an initial project report, the coop and compost bin are almost finished but had slight changes to the January completion time due to it being rainier than originally anticipated.
"Our students are learning a tremendous amount about sustainable agricultural practices, expanded science topics (environmental science, life cycle, nutrition, agricultural sciences) and this has created a well-rounded educational experience at our institution, built trust within the community for our institution, and lifted a long-lasting financial burden within our canteen space," the project report said.
The project is noted to have boosted school morale and built anticipation of the first batch of chickens to use the coop. The compost heap is now operational and is credited with cutting down the levels of litter on the school compound. There has also been a combined effort involving the schools 4H club and the ground staff to take turns and maintain the compost.
It is expected that the project will boost the nutritional intake of the students as they will be growing their own food. The canteen as well will reduce its debts and overheads due to the change in supply of food items. Says current Peace Corps volunteer David Pruitt and his counterpart, "We have begun to improve the overall nutrition of our students through our canteen and improved the beautification and health of our campus (no more loose trash lining the campus). Truly, we are incredibly appreciative and cannot thank you organization enough for its support."
---