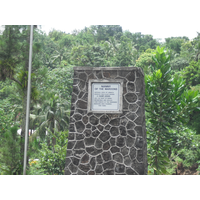 By David A. Ingleman
David "Ragga" Ingleman (RPCV Jamaica 2008-2010) is a former FOJ board member and an occasional contributor to the FOJ newsletter. He is an archaeology doctoral student at the University of California, Santa Cruz. David lives in Las Vegas, Nevada with Jenny (his better half), Fitzy (his old Jamaican mongrel dog), and two stoosh cats. He wrote this article in honor of Jamaica National Heroes Day.
Some Jamaican myths and legends, like the rolling calf or anansi, are told again and again, from Kingston to Negril and throughout the African Diaspora. Other stories occur in multiple communities and, in their specificity, appear to inexplicably contradict each other. The final resting place of The Rt. Excellent Nanny, Jamaica's only National Heroine, is one such historical puzzle.
Nanny was a very real historical figure who lived in the early to mid-1700s and led a group of self-emancipated Africans in eastern Jamaica, known as Maroons (Brathwaite 1977); but, she is also much more than that. Nanny can be seen everywhere in contemporary Jamaica--from sun-faded murals on elementary school walls, to crumpled $500 bills. Just this year, the Jamaica Defense Force christened a new cutter they will use to patrol Jamaica's waters the "HMJS Nanny of the Maroons." Beyond the land of wood and water, many Jamaican restaurants in the USA and UK bear Nanny's name. In 2004, a Returned Peace Corps Volunteer (RPCV) and her Jamaican husband even opened up a jerk marinade company in southern California called "Nanny's Jamaican Kitchen" (Peace Corps Online 2006). Nanny is much more than a historical figure--she is an enduring, emergent, and contemporary phenomenon.
I learned about one local Nanny legend when I lived in Mocho, Clarendon, as a Peace Corps Volunteer (PCV). Many people I met in Mocho claimed that "Nanny's Tomb" could be found just off the main road, on the side of a steep slope going up to the Mt. Moses Great House ruins. This legendary location is locally known as "Nanny Gravel." However, certain older residents remembered that the name "Grandy Nanny" was formerly applied to the area (Personal Communication, George Ashley, August 2009). A cut-stone monument marks the spot (Figure 1). The monument stands just above a 20th-century, concrete mile marker, inscribed with the number "10." The much older monument was apparently damaged in the late-1960s as a result of road widening (Panos Caribbean 2007:139, quoting Muriel Eccles).
Of course, many Maroons in eastern Jamaica would likely dispute the Mocho claim and assert that Nanny's final resting spot is "Bump Grave," in Moore Town, Portland (Figure 2). People from Moore Town still remember many of Nanny's accomplishments, including the founding of their community, and affectionately refer to their ancestral chieftainess as "Grandy Nanny." The first stone monument built at the sacred site of Bump Grave was not erected until 1977, when Nanny achieved help status as Jamaica's first and only National Heroine (Bilby 2006:39). I had the opportunity to see Bump Grave in 2010 while visiting other PCVs who lived in Moore Town and its satellite districts. I was so grateful when Moore Town Maroon Colonel Wallace Sterling graciously offered to escort us to the site of "Nanny Falls," where we swam, soaked in the heritage and natural beauty that surrounded us, and savored the fresh mammee fruit Colonel Sterling gifted us (Figure 3).
If I mention the Mocho version of the Nanny Tomb legend to Jamaican heritage professionals and history buffs, then they tend to scoff. Bump Grave is well known and there is no community in Mocho that claims Maroon ancestry. However, the legend is not entirely implausible. During the early 18th century, much of the Mocho Mountains would have been considered Maroon territory. It was not until 1733 that the colonial government built a military outpost at Cave Valley, St. Ann, which caused the Maroons to counter-maneuver and withdraw into the Cockpit Country (Carey 1997:146-147; Dallas 1803:I:36, 43). Thus, toponyms like "Nanny Gravel" may plausibly ring as echoes of the history of the Maroon occupation of the Mocho region. In addition, a cave located on the campus of the Thompson Town High School, which is situated between Mocho and Cave Valley, is locally known as "Cudjoe's Cave" (Personal Communication, Kemor Fearon December 2008). Nanny is said to have met with Cudjoe, or Kojo, the famous leader of Maroons in western Jamaica, in his territory (Carey 1997:447). Moreover, the legend in Mocho is that Cudjoe and Nanny used this cave as a meeting place. There is a good chance that Nanny was familiar with the area of Mocho now known as Nanny Gravel. But, the question remains: where was Nanny buried?
The documentary record is unclear about when Nanny died and is silent on where she was buried. According to the late poet-historian E. Kamu Brathwaite, "Nanny herself is mentioned only four times in the written archives" (Braithwaite 1977:15). In the first reference, from 1732, British forces operating in Portland reported killing "Nanny, the rebels old obeah woman." As Brathwaite eloquently put it, "So she xists [sic]--but is dead before she even begins..." (Brathwaite 1994:124, emphasis original). However, this claim is discredited by the fact that she appears at least three more times on documents dating from between 1735 and 1741, apparently very much still alive (Braithwaite 1977:15-16; Campbell 1988:174-175).
The oral tradition from the Maroons in Accompong Town, St. Elizabeth adds further complexity. According to some Accompong Town Maroons, Nanny is buried in Accompong Town in the Old Town Grove, near Cudjoe, her "brother" (Besson 2016:36). When the historian Mavis Campbell visited Accompong Town in the 1980s, she was told she could not see Nanny's grave "on the grounds that no woman is allowed there" (Campbell 1988:177). Nevertheless, an anthropologist named Archibald Cooper documented this Accompong Town Nanny legend as early as 1939, but with a twist. Cooper's interlocutors in Accompong Town claimed that "Oldtown" was in fact the burial ground of Nanny, along with her three "brothers": Accompong, Quankee, and Cuffee (Cooper n.d.:4). Interestingly, Cudjoe was not mentioned in this context. Others claim that Nanny was travelling from Accompong to Moore Town, "when she suffered a fatal heart attack at Ellerlie [sic, Elderslie?] and died" (Carey 1997:447). Curiouser and curiouser.
The available archaeological evidence for Nanny's tomb in Accompong Town can not solve this mystery. According to information obtained by Cooper in the 1930s, Accompong's grave was marked by "a flat stone" (Cooper n.d.:4). In the 1990s, the Accompong Maroon Colonel Martin-Luther Write described Cudjoe's burial ground in a similar fashion and this may in fact be the same grave marker. According to Wright, "the burial ground of Kojo" was marked by "two large stones" (Wright 1994:171). Limited archaeological excavations near this location in the early 1990s identified some fascinating artifacts, including locally made pottery, a bead, a copper bracelet, and three cowrie shells, but no burial features (Agorsah 1993:190).
What explains all this apparently conflicting historical evidence about Nanny's final resting place? Beverley Carey (1997:447), a Moore Town Maroon, suggested that in order to avoid tension among different Maroon groups with a claim to Nanny "several coffins were made and weighted and there was a burial ceremony with one in each of the [Maroon] villages." One could endlessly speculate about other possible scenarios that would make all historical fragments that I have assembled here fit together, but there would be little point to this piecing together this historical puzzle without additional evidence.
Regardless of what the historical "truth" might be, as her innumerable and proliferating legends attest, Nanny remains an inspiration to many and an aspiration to some. For example, the modern Jamaican state has repeatedly tried to validate Nanny and incorporate her into the national history and identity. Nevertheless, the legend of Nanny remains historically and internationally transcendent, while simultaneously rooted to local communities at specific sites on the landscape and recalled in oral traditions. It is perhaps less accurate to see the history I have presented here as a puzzle and more appropriate to think about Nanny legends as a mosaic.
Do you have a story about another hero you would like to share with your fellow Jamaica RPCVs and other Friends of Jamaica? Write to the FOJ newsletter and let us know or consider joining us for the upcoming FOJ Heroes Day Story Jam.
Figure 1. "Nanny's Tomb," in Mocho, Clarendon, Jamaica. Stone monument above concrete mile marker marking a location known as "Nanny Gravel" in Mocho, Clarendon, Jamaica. Kemor Fearon of Mocho is shown clearing overgrowth. Mile marker in the foreground is inscribed with the number "10" (Photo by author December 2008).
Figure 2. "Bump Grave," in Moore Town, Portland, Jamaica. Plaque reads: "NANNY OF THE MAROONS NATIONAL HERO OF JAMAICA. BENEATH THIS PLACE KNOWN AS BUMP GRAVE LIES THE BODY OF NANNY INDOMITABLE AND SKILLED CHIEFTAINESS OF THE WINDWARD MAROONS WHO FOUNDED THIS TOWN" (Photo by author July 2010).
Figure 3. "Nanny Falls," in Moore Town, Portland, Jamaica. In 2010, Moore Town Maroon Colonel Wallace Sterling guided four PCVs to the majestic Nanny Falls and then continued onto his "ground" where he farmed. When Col. Sterling returned, he treated us to fresh-picked mammee fruit (Photo by author August 2010).
References
Agorsah, E. Kofi
1993 Archaeology and Resistance History in the Caribbean. The African Archaeological Review 11:175-195.
Besson, Jean
2016 Transformations of Freedom in the Land of the Maroons: Creolization in the Cockpits, Jamaica. Ian Randle Publishers, Kingston, Jamaica.
Bilby, Kenneth M.
2006 True-Born Maroons. Ian Randle Publishers, Kingston, Jamaica.
Brathwaite, E. Kamu
1977 Nanny, Sam Sharpe and the Struggle for People's Liberation. Agency for Public Information, Kingston.
1994 Nanny, Palmares & the Caribbean Maroon Connexion. In Maroon Heritage: Archaeological Ethnographic and Historical Perspectives, edited by E. Kofi Agorsah, pp. 119-138. Canoe Press, Kingston, Jamaica.
Campbell, Mavis
1988 The Maroons of Jamaica, 1655-1796: A History of Resistance, Collaboration & Betrayal. Bergin & Garvey, Granby, MA.
Carey, Bev
1997 The Maroon Story: The Authentic and Original History of the Maroons in the
History of Jamaica 1490-1880. Agouti Press, St. Andrew, Jamaica.
Cooper, Archibald
n.d. Archibald Cooper Papers, West India Collection, University of the West Indies Library, Mona, Jamaica.
Dallas, Robert C.
1803 History of the Maroons, 2 Vols. Longmans & Rees, London.
Panos Caribbean
2007 Voices from Mocho. Panos Caribbean, Kingston, Jamaica.
Peace Corps Online
2006 "Nanny's Jamaican Kitchen Opened in January 2004 in Yucaipa with Jamaica RPCV Diane Johnson-Harris as President." Electronic resource, http://peacecorpsonline.org/messages/messages/467/2044608.html, accessed September 5, 2020.
Wright, Martin Luther (Col.)
1994 The Heritage of Accompong Maroons. In Maroon Heritage: Archaeological Ethnographic and Historical Perspectives, edited by E. Kofi Agorsah, pp. 64-71. Canoe Press, Kingston, Jamaica.
---